Top 10 Software House in Faisalabad
By Naveed Sarwar
September 6th 2022
Top 10 Software House in Faisalabad
This growing age of Information Technology is highly contributing towards country's economy. In this era of modern technology, youth is opting for getting their higher education in this industry. As we increase the number of bachelor's in computer science, software engineering of Information technology, we ultimately want to increase the number of computer software house. You can learn more about why you should choose to do bachelor's in computer science?
Faisalabad has some of the top software houses in Pakistan. In this article we have prepared a listing of software companies. You can learn about the best software companies in Faisalabad along with their followed technology stack and contact information. This article can help you in choosing the best organization to start your career.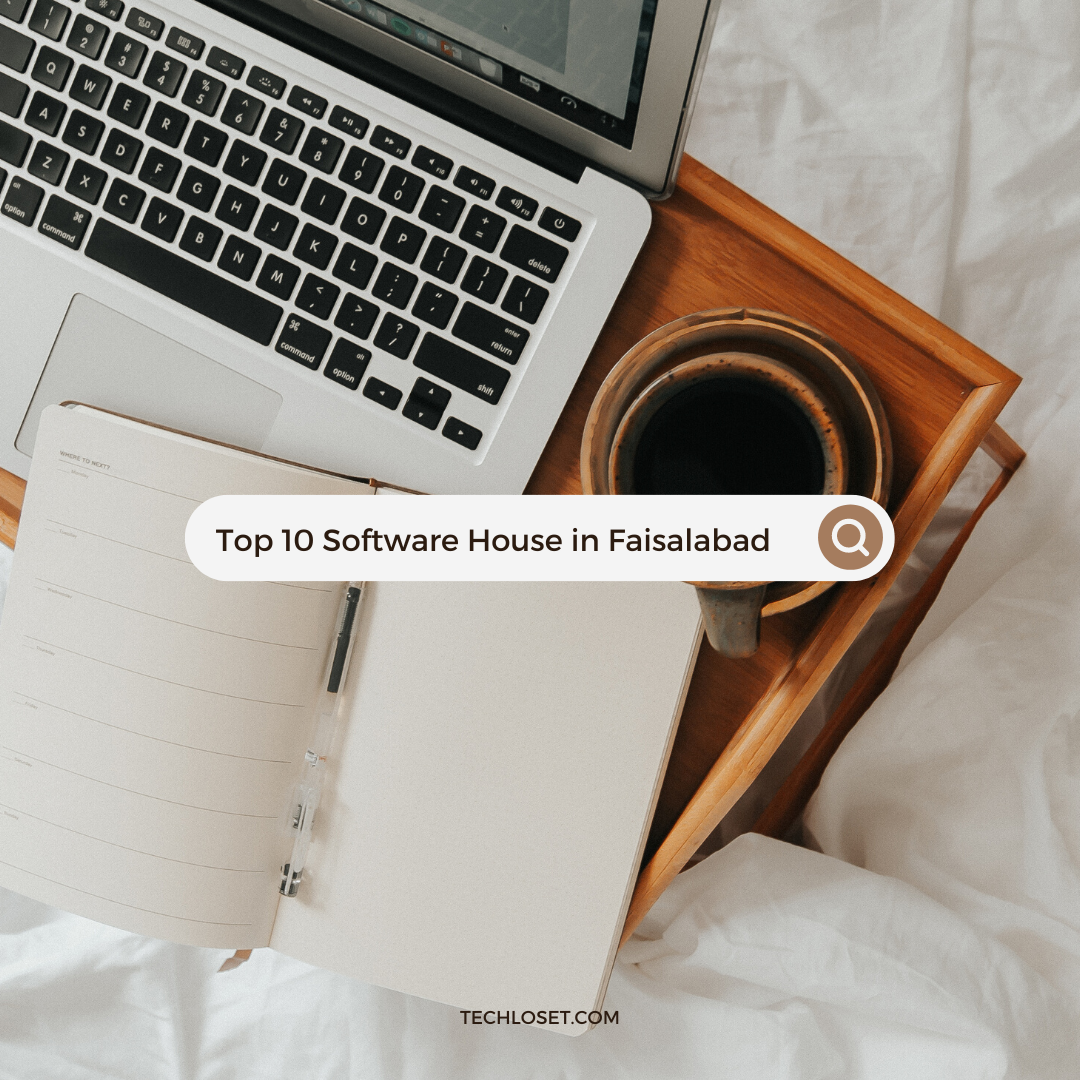 List of top 10 Software House in Faisalabad
1. TechloSet Solutions
Team TechloSet follows the modern ways of software development using latest technology stack and most treding approaches. Along with job opportunities, TechloSet Solutions are providing learning environment for newbies and turning them into Masters of this field. The followed stack is React Native, MERN, PERN, FERN, Blockchain Development, AI Based Engineering Products, SaaS Applications and DevOps. Breaking the odd norms of society TechloSet is providing Equal opportunities to everyone who deserves. TechloSet solution is clearly one of the Top Software House in Faisalabad and among the best software houses of Pakistan.
Contact: info@techloset.com
Webiste: https://www.techloset.com/
Location: P681 W Canal Rd, Amin Town, Faisalabad, Pakistan.
2. IT Empire
IT Empire is team of android application development that has top experienced and best team not only in Faisalabad but all over the Pakistan and different cities in world also. Providing android application development and having the top portfolio in this regard. They assure not only about quantity but also provide best quality. Android application development in Faisalabad is another name of it empire. They have different projects of android application development on the board.
Contact: admin@itempire.org
Website: www.itempire.net
Location: First Floor Software Technology Park Canal Road, Faisalabad
3. Globital
Globital Media House is a white label, wholesale digital marketing company that serves clients all over the world. If we talk about the team, for your information, globital employs over 200 experts. Search Engine Optimization (SEO), Pay Per Click (PPC), Social Media Marketing, Lead Generation, Web Design and Development, C.R.O., Copywriting, and Graphic Design are all part of this software house service.
Contact: +92 (41) 850 1879
Website: www.globitalmarketing.com
Location: Office No 92, Second Floor, Kohenoor plaza 1, Jarawala road, Faisalabad.
4. Gamica Cloud
Gamica Cloud is an educational institute especially for undergraduates to complete their internships and get organizational knowledge. GIAIC's mission is to reshape Pakistan by revolutionising finance, education, research, and business through the use of cutting-edge technologies. This is being referred to as the fourth industrial revolution by experts. Aiming Pakistan to be a global hub for artificial intelligence, data science, cloud native computing, edge computing, blockchain, augmented reality, and the internet of things.
Contact: +92 349 7672117
Website: www.gamicacloud.com/
Location: GamicaCloud, C37J+F6J, Kohinoor City Factory Area, Faisalabad
5. Sar Zone
Sar Zone Using industrial best practises, their team can assist you in visualising and fine-tuning your Software/Hardware application from the start. They then put it through world-class design and development using their best software house in Faisalabad and top software house in Islamabad, resulting in a well-planned roll-out backed by highly dependable on-going technical support. Their custom Software/Hardware development services are tailored to a wide range of organisation sizes, types, and business requirements.
Contact: +923411111727
Website: www.sarzone.com
Location: Sar Zone First Floor, The Mall of Lyallpur, Main Blvd Road, D ground, Faisalabad.
6. Pasban IT Group
With the establishment of Pasban I.T Services, the Pasban Group crossed national boundaries and took a new step in the field of I.T (Information Technology). This area of expertise includes the creation of scalable and extremely popular web-based destinations on an international scale, as they are today. Pasban has one of the world's largest websites networks. The name of the Group clearly indicates the organization's purpose. People who think and dream differently, people who go above and beyond the bread and butter for the family. These are the people who act as Pakistan's responsible citizens.
Contact: 041-8777246
Website: www.pasbanwelfare.org/
Location: Satayana Road، Batala Colony Faisalabad, Punjab
7. Content Arcade
Content Arcade is an innovative I.T. company that ranks among the best Software Houses in Faisalabad. Promising, forward-thinking, and dynamic. At Content Arcade, we work with various languages such as Python and Javascript. Other services include graphic design for Content Arcade, Kindle Direct Publishing, Internet marketing, mobile app development, content writing, and website development.
Contact: 041-8739015
Location: Regent Mall, Faisalabad
8. Experts Soft
Expert Soft Solution is a global provider of IT solutions, consulting, and services that specialises in low-cost business and technology solutions. Expert Soft Solution, founded as an independent organisation in the fall of 2009, has established itself as a leading provider of customised software solutions. Expert Soft Solution has successfully traded into numerous other industries and positioned itself as a global software solutions provider across a variety of industries since its inception.
Contact: 0332 9998805
Location: C3CQ+4PC، Chaudhary Arcade,، Regency Rd, Faisalabad, Punjab
Website: https://expert-soft.com
9. Wapexp
Wapexp is a Learning Platform. Equipping Pakistan with latest skills & cutting-edge techniques. We teach Digital Marketing, Web & Android Development, Graphics Designing , Oracle, SEO, Java, C++, Office Managment in Faisalabad
Contact: 0336 0727738
Location: Saleemi St, Suhail Abad Batala Colony, chowkh, Faisalabad
10. Soft Bridge
In Faisalabad, Soft Bridge outperforms an active competitor. If we look at the services offered by Soft Bridge, we can see that it offers Oracle-based Desktop Applications, Web development, Customized maintenance, PHP-based Online Applications, Domain, Hosting, and SEO-related services. This company was founded in 1994 and has maintained a positive image in society by completing numerous projects all over the world, making it an excellent choice for a future construction company.
Contact: 03008661578
Location: 96, 2nd Floor, Kohinoor One Plaza, Jaranwala Road, Faisalabad