Discover top Software Houses in Faisalabad in 2024
By Naveed Sarwar
October 23rd 2023
Discover top Software Houses in Faisalabad in 2024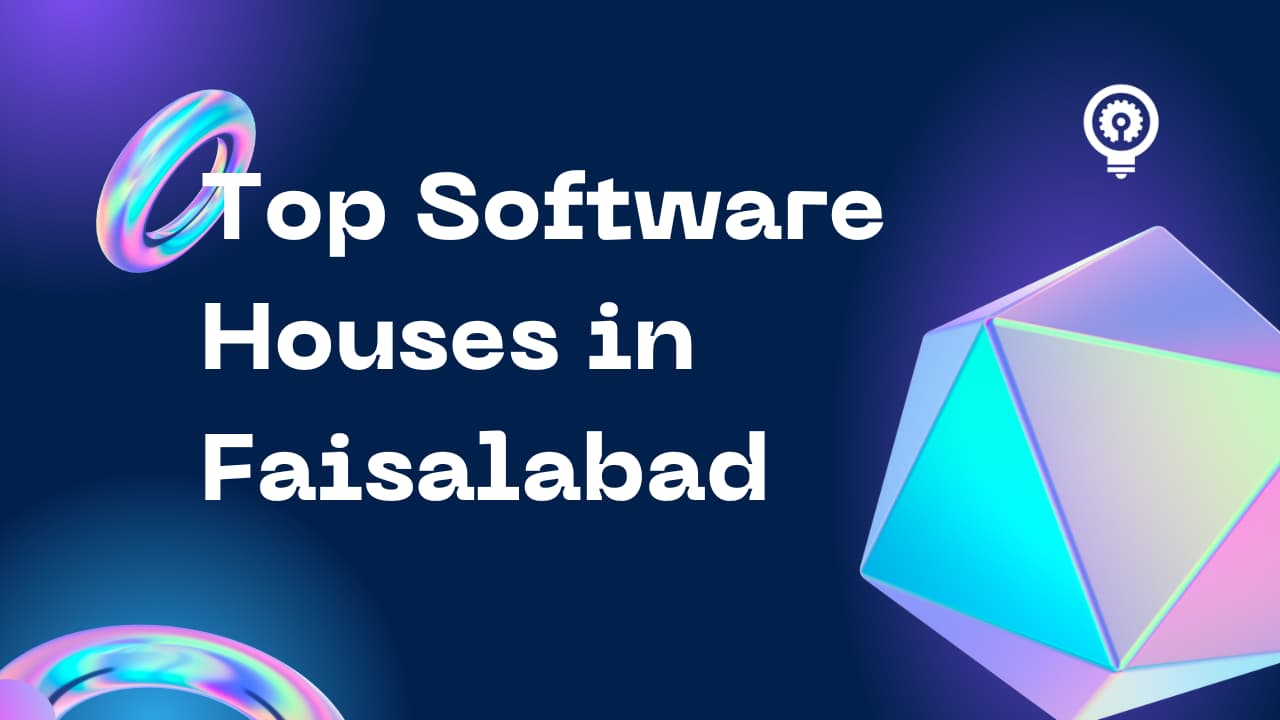 In the dynamic world of Information Technology, where innovation is the heartbeat of progress, choosing the right path for your career is paramount. As a job seeker in Faisalabad's tech landscape, the prospect of joining a software house in 2024 is filled with exciting possibilities. With this blog, we embark on a journey to explore the top software houses in Faisalabad, offering a glimpse into the thriving tech scene, a treasure trove of opportunities, and a chance to be part of something extraordinary.
In the following pages, we'll delve into the DNA of these software houses, each one unique in its approach, culture, and vision. We'll uncover their strengths, the technology stacks they command, and the impact they've made on the industry. This blog is not just a list of companies; it's a gateway for job seekers who aspire to become a part of the vibrant tech community that is shaping Faisalabad's IT landscape. So, whether you're a developer, designer, data scientist, or a tech enthusiast eager to contribute your talents, this journey through the top software houses in Faisalabad is your compass in navigating the tech career of your dreams in 2024.
List of top Software Houses in Faisalabad in 2024
TechloSet Solutions
As you set out on your quest to join the ranks of Faisalabad's thriving software houses in 2024, there's one name that stands out amidst the rest – TechloSet Solutions. Our story is one of continuous innovation, unwavering commitment to quality, and a work environment that fosters collaboration and creativity. At TechloSet Solutions, we don't just build software; we build careers.
Our accomplishments speak volumes, as we've partnered with industry leaders like Resumas, CoverClap, GoGrocer, and Suvae to drive technological advancements and digital innovation. With expertise in diverse tech stacks, including MERN, JAMstack, Python Django and Flask, and serverless computing with AWS Lambda, Azure Functions, and Google Cloud Functions, we empower our employees to be at the forefront of the ever-evolving tech landscape.
Our journey is marked not only by the lines of code we write but by the smiles we share, the moments of celebration, and the camaraderie among our team. From weekends filled with gaming sessions to commemorating national occasions like Independence Day and relishing the flavors of Mango Day, every day at TechloSet Solutions is a blend of work and play, dedication, and joy.
As you explore the top software houses in Faisalabad, TechloSet Solutions invites you to not just witness our environment and accomplishments but to be part of our journey. Your aspirations, combined with our culture of excellence and relentless pursuit of innovation, could mark the beginning of an exciting and fulfilling career in the world of technology.
Contact: info@techloset.com
Phone: +92 (41) 87 50005
WhatsApp: +92 (327) 87 50005
Webiste: https://www.techloset.com/
Location: P681 W Canal Rd, Amin Town, Faisalabad, Pakistan.
Netsol Technologies
Founded in 1982, Netsol Technologies has been a global leader in asset finance software, with over 40 years of innovation to its name. Netsol, which has offices in the USA, UK, Australia, China, Thailand, Indonesia, and Pakistan (Lahore), is a top option for job seekers looking for a dynamic and impactful career. Netsol has a strong commitment to client success and a client list that includes major banks and leasing companies worldwide. This organization is a great fit for individuals looking to contribute to cutting-edge asset finance technology projects because of its strong innovation culture and wide tech stack, which includes Java, C++, and.NET. Investigate opportunities with Netsol Technologies and join a group that consistently propels industry innovation.
Contact: info@netsolpk.com
website: https://netsoltech.com/
Location: Third floor, Arcadian kohinoor City, Jaran wala Road, Faisalabad.
IT Empire
IT Empire excels in Online Systems, Mobile App development, E-Commerce, Video Portals, Classified Sites, Social Networks, SEO Solutions, 3D Graphics/Modeling, and Blockchain Development. With a wealth of experience in these areas, they offer diverse career opportunities in the tech industry.
Contact: +923-111-222783
Website: https://www.itempire.net/
Location: First Floor Software Technology Park Canal Road, Faisalabad
KATco
KATco, a rising star in the software development landscape of Faisalabad, emerges as an exciting and innovative player in the industry. With a vision to redefine digital experiences, KATco has quickly gained recognition for its commitment to excellence and a fresh approach to software solutions. Currently, KATco is on the lookout for talented individuals to join their ranks in key positions such as iOS development, Quality Assurance, and Graphics Designing.
Website: https://www.katco.tech/
Contact: +92-41-5389363
Location: Wahab Centre, Susan Rd, Madina Town, Faisalabad, Punjab 38000, Pakistan
Globital
Globital Media House is a global wholesale digital marketing company specializing in white-label services. With a team of 200+ experts, they provide a comprehensive range of solutions, including Search Engine Optimization (SEO), Pay Per Click (PPC), Social Media Marketing, Lead Generation, Web Design and Development, Conversion Rate Optimization (C.R.O.), Copywriting, and Graphic Design. Their services cater to clients worldwide.
Contact: +92-418-501879
Website: https://www.globitalmarketing.com/
Location: Office No 92, Second Floor, Kohenoor plaza 1, Jaranwala road, Faisalabad.
Sar Zone
SAR ZONE is a versatile organization offering services in Automation, Software Development, Wireless Communications, 3D Designing, IoT, CNC, Technical Assistance, Industrial Solutions, Vehicle Tracking, and Training. For job seekers, this translates into a wealth of career opportunities spanning software development, engineering, design, IoT implementation, technical support, and industrial solutions. Whether you're a developer, engineer, designer, or educator, SAR ZONE provides an environment for personal and professional growth.
Contact: +92-341-1111727
Website: https://www.sarzone.com/
Location: Sar Zone First Floor, The Mall of Lyallpur, Main Blvd Road, D ground, Faisalabad.
Pasban IT Group
Pasban I.T Services marked a significant expansion for the Pasban Group, venturing into the realm of Information Technology (I.T) across international boundaries. Their expertise encompasses the development of highly scalable and globally recognized web-based platforms, forming an extensive network of websites. The Group's name aptly reflects its mission: to empower individuals who possess innovative thinking and aspirations beyond the ordinary. These individuals, acting as responsible citizens of Pakistan, contribute to the Group's success.
Contact: +92-341-8777246
Website: https://www.pasbanwelfare.org/
Location: Satayana Road، Batala Colony Faisalabad, Punjab.
Content Arcade
Content Arcade stands as an innovative IT company and a standout Software House in Faisalabad, characterized by its promise, forward-thinking approach, and dynamic endeavors. Their expertise extends to a multitude of programming languages, prominently featuring Python and Javascript & comprehensive service portfolio encompasses graphic design, Kindle Direct Publishing, internet marketing, mobile app development, content writing, and website development.
Contact: +92-41-8739015
Website: https://www.contentarcade.com/
Location: Regent Mall, Faisalabad
8. Experts Soft
Expert Soft Solution is a global provider of IT solutions, consulting, and services that specialises in low-cost business and technology solutions. Expert Soft Solution, founded as an independent organisation in the fall of 2009, has established itself as a leading provider of customised software solutions. Expert Soft Solution has successfully traded into numerous other industries and positioned itself as a global software solutions provider across a variety of industries since its inception.
Contact: +92-332-9998805
Website: https://expert-soft.com/
Location: Chaudhary Arcade,، Regency Rd, Faisalabad, Punjab
Wapexp
Wapexp is a Learning Platform. Equipping Pakistan with latest skills & cutting-edge techniques. We teach Digital Marketing, Web & Android Development, Graphics Designing , Oracle, SEO, Java, C++, Office Managment in Faisalabad.
Contact: +92-336-0727738
Website: https://www.wapexp.com/
Location: Saleemi St, Suhail Abad Batala Colony, chowkh, Faisalabad.
Soft Bridge
Soft Bridge's service offerings encompass Oracle-based Desktop Applications, Web Development, Customized Maintenance, PHP-based Online Applications, Domain and Hosting services, along with SEO-related solutions. Established in 1994, Soft Bridge has garnered a favorable reputation by successfully delivering numerous projects worldwide, rendering it a top-tier choice for prospective businesses.
Contact: +92-300-8661578
Website: https://www.softbridge.pk/
Location: Office#96, Koohinoor One, Jaranwala Road, Faisalabad.
Softrix Technologies
Softrix Technologies is committed to being an equal opportunity employer, valuing dignity and respect for all employees and applicants. Softrix Technologies offers services in web development, search engine optimization (SEO), and app development, with extensive experience in these areas. They are known for saving time and effort, employing a dedicated team, and providing 24/7 support to help businesses grow and succeed in the market.
Contact: +92 41 5381374
Website: https://softrixtech.com/
Location: 4-X-2 Madina Town, Faisalabad PU, 38000, Pakistan.
H3 Solutions
H3 Solutions is a technology-focused company offering services in web development, e-commerce solutions, website design, SEO, accounting consultancy, HR service delivery, customer support, mobile app development, co-working spaces, and payment integration through PayPal. They specialize in various programming languages and databases. H3 Solutions provides a wide range of career opportunities for individuals interested in technology and business services.
Contact: +92 322 6633108
Website: https://h3solution.net/
Location: 2nd floor, Mall of Faisalabad, near Kashmir Bridge, Faisalabad.
eLink Solutions
eLink Solutions offers a comprehensive range of services to meet your digital needs. From web design and development to SEM, SEO, and eCommerce solutions, they have you covered. They specialize in services like social media marketing and dedicated team hiring, ensuring your online success.
Contact: +92-333-6553048
Website: https://www.elinksol.net/
Chensoft (pvt) Limited (chenab Group)
Chensoft delivers top-notch IT solutions, specializing in web & SaaS apps, mobile app development, and web API integration. Their values include customization, transparency, and innovation, ensuring effective results. With a history of creating competitive products and offering technology consulting, Chensoft is a trusted partner for businesses. They excel in MVP development and provide long-term support for software projects, helping businesses grow and succeed. Join their team to be part of a dynamic IT solution provider committed to delivering value.
Contact: +92-302-8658609
Website: https://chen-soft.com/
Location: Chensoft Technology Pvt. Limited, Nishatabad, Faisalabad, Punjab, Pakistan.
Digital Softs
Digital Softs, serving since 2004, offers comprehensive IT solutions. They specialize in Design Services, Software Development, Digital Marketing, Website Solutions, Domain & Hosting, and Consultancy. Their expertise helps businesses grow, using technology and innovation to achieve objectives. Join their team to contribute to their mission of business empowerment through technology.
Contact: +92-321-8661765
Website: https://www.digitalsofts.com/
Location: Sitara Techno Park, Lower Canal Road, People's Colony No 1, Faisalabad, Pakistan.
Convert Generation Information Technology - CGit
CGIT offers a range of career opportunities for job seekers looking to thrive in the world of digital solutions. From UI/UX design that prioritizes functionality to digital marketing that boosts online presence, and mobile app development to web development driven by innovation, CGIT's services encompass diverse areas of expertise. As a job seeker, you can contribute to their global client success while honing your skills in a dynamic and growth-oriented environment.
Contact: +92-322-6224202
Website: https://www.cgit.pk/
Location: Kohinoor One Plaza, Second Floor, Office 93, Faisalabad, Punjab, 38000